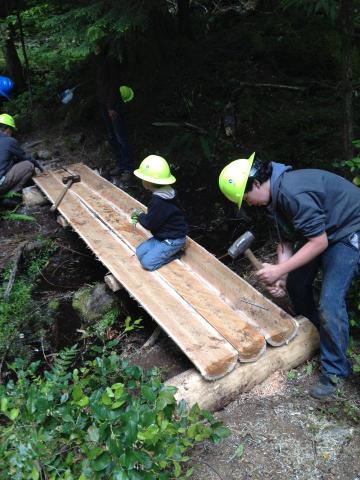 Wow! What a huge success the Middle Fork Trail Work and Campout weekend was! Jointly sponsored by G.O.A.T.S, DOD, USFS, Life Cycles Bike Shop, Kona Bicycles and Ninkasi Brewery this event was fun and productive from start to finish. Volunteers began arriving on Friday to set up camp, get in a little fly fishing and socialize a bit. G.O.A.T.S volunteers set up an awesome outdoor kitchen and fed just over 20 folks a gourmet meal on Friday night. We do like to keep our volunteers well fed and happy. A generous donation by Kona Bicycles helped make that possible. After dinner beverages, provided by Ninkasi, and a cozy campfire ended the evening in fine fashion.
On Saturday morning, after a french toast breakfast, 35 trail workers set off for the Chuckle Springs Trailhead. From there they hiked upstream to work on a variety of projects outlined by the USFS. These included cutting out downed trees, rerouting the trail back to it's original location, retaining wall construction, tread work and brushing. Let me tell you, these ladies and gentlemen can do some serious work! After returning to camp, trail workers were rewarded with snacks and then a bike shuttle on the Young's Rock trail made possible by Life Cycles Bike Shop. The day was topped off by another great meal, beverages, a campfire and lots of story telling and laughter.
Sunday morning saw 2 dozen trail workers fueling up with a veggie scramble and home fries before setting off for another great day of work on the trail. This time the destination was downstream of the trailhead. Sundays work included building bridges, brushing, tread work and putting nonslip material on bridges. These folks can do it all!
A big thank you to all the volunteers that made this weekend such a success! We couldn't do it without you. If you were there, you know how much fun it was and if you weren't, there's always next year!
Hats off to all involved!